Firm Overview of The Draskovich Law Group
Dedicated to Criminal Defense in Las Vegas, NV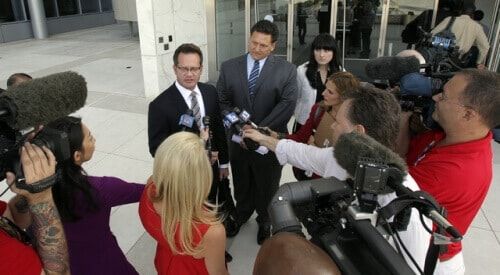 At Draskovich Law Group, we are a firm that approaches cases with an aggressive and prepared criminal defense for your rights. This is why our criminal defense lawyers are so highly respected in the Las Vegas are for locals and tourists seeking legal aid.
Our attorneys have been named among the top 3% of all criminal defense attorneys in the United States, and we are more than capable of handling your case and turning it into a victory on your behalf.
Let us help you after you've been arrested, accused, or when you learn of a criminal investigation against you. When you want real defense, call (702) 381-6590.
Why Is It Important to Retain Criminal Lawyers in Las Vegas, NV?
Protecting your Constitutional rights can be incredibly complex which is why this important undertaking should never be approached lightly. Cases often involve an in-depth knowledge of the law and a thorough approach to reviewing evidence and prior court procedures.
In addition, benefits of retaining legal counsel at The Draskovich Law Group include:
Criminal defense laws, especially sex crimes laws, change every time the legislature meets and evolve every time a judge makes a ruling. By having a lawyer who keeps track of and studies the relevant laws on a day-to-day basis, you will have an effective defense.
Attorney Robert M. Draskovich has tried more than 100 criminal cases. That's experience you can depend on. He has valuable experience in jury selection and Nevada Supreme Court Rule 250 certified, making him one of the few attorneys in the state who are specifically qualified to handle death penalty cases.
Our team utilizes an investigator because we want our clients to have an independent investigation of the allegations against them.
Our law firm does not rely on traditional approaches to defense. We have a network of experts who can challenge the prosecution's evidence and witnesses.
Mr. Draskovich is sought as a speaker for his ability to cross-examine witnesses in highly emotional sex crime trials. In many trials, including those involving sexual assault of a child, he has demonstrated to juries that credible, well-meaning witnesses are not always reliable.
Attorney William Horvath was named a 2019 Top 40 Under 40 criminal defense lawyer in Nevada by by the American Institute of Trial Lawyers.
Our law firm fights hard for our clients, standing up for people even when no one else will and when other lawyers suggest giving up.
Many of our cases are referred by other lawyers who want their clients to have a strong defense from an aggressive, experienced attorney.
A conviction for a sex crime or other serious crimes can mean going to prison, sometimes for a mandatory life sentence. Sex crimes can carry the additional burden of sex offender registration.
If you have been arrested in Clark County, Nevada, do not take unnecessary chances with your future. Contact The Draskovich Law Group to schedule your free consultation today.