Las Vegas Domestic Violence Lawyer
Aggressive Defense for Violent Crime Charges
Fights between spouses are often taken out of context or escalated by a neighbor or witness calling the police. What was once a small dispute may quickly turn into a legal matter, as many police officers will arrest you even if your spouse or partner is not pressing charges. Regardless of the exact circumstances which led to your arrest, allegations of domestic violence are taken very seriously by law enforcement and judges.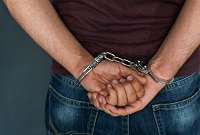 You need to speak with our Las Vegas domestic violence attorney from The Draskovich Law Group right away after an arrest. We are not afraid to fight against prosecutors or the members of local domestic violence units to ensure that your rights are fully protected.
---
Contact us today to work with a Las Vegas domestic violence attorney - free consultations offered!
---
Domestic Violence Charges & Penalties
Our firm is familiar with the way domestic violence cases are approached and we are dedicated to working towards a positive outcome for your case. We understand that a domestic violence charge can lead to serious consequences, both legally and personally. In addition to legal consequences such as jail time or probation, if a restraining order is put in place you could also find yourself unable to visit your home, your spouse, or your children.
Domestic violence charges can involve accusations of the following:
Physical abuse
Threats of abuse
Verbal abuse
Emotional abuse
Stalking
Harassment
Child abuse
Impact of Domestic Violence Conviction
Being convicted of domestic violence can carry many different legal consequences. Not only will you spend at least 2 days in jail, but you will also be required to attend a 90-minute class once a week for six months.
A domestic violence conviction can affect your life in a number of ways:
Your child custody agreement may be affected
You may lose the ability to carry a firearm
You may be sentenced to time in jail
Your immigrant status may be affected
A restraining order may be filed against you
Domestic Violence Affects Child Custody
In Nevada, if you have a domestic violence conviction, you may be presumed to be an unfit parent. Unfortunately, some parents will make false allegations of domestic abuse in order to gain leverage in a custody battle.
If you have been accused of domestic violence and are going through a divorce or custody battle, you have to understand that these charges can have a great impact on how much time you are able to spend with your children.
Losing Your Right to Bear Arms
Additionally, you may lose your right to bear arms if a conviction of domestic violence is reached. There are no exemptions or exceptions to this rule. If you are in law enforcement, you will lose your job and if you are in the military, you will be discharged.
Not only will you lose your right to possess a firearm, but you also cannot be with people who possess firearms. Even if you do not live in Nevada, but are convicted of domestic violence here, you will still lose your right to bear arms in any and all U.S. states.
Consequences of Domestic Violence on Immigration
If you are not a citizen of the United States and are convicted of domestic violence, you can be deported. Domestic violence crimes are viewed as "crimes of moral turpitude," which is grounds for deportation. Even if you are not deported, your conviction could impact your immigration status in the near future.
Representation Against DV Teams in Las Vegas
The domestic violence (DV) teams have been established to cut down on incidents of domestic violence throughout Nevada. Our legal team has the resources and skill to gather sufficient evidence on your behalf to highlight your innocence. We have extensive experience showing prosecutors and the local DV team assigned to your case that the evidence against you is weak and the charges should be dropped.
To schedule a free case evaluation with a Las Vegas domestic violence lawyer, please call us now at (702) 381-6590.